Welcome at OUTtogether Online!
On this portal you will find all kinds of fun online events, online activities, online groups and online calls. Would you like to play a game online, have a drink with other users, take part in an online tour or pub quiz? Everything is possible! Create an online interest group, follow a fun online group that already exists or place an online call to meet new people all over the Netherlands! Do you also want to meet in person in other cities, or does it not matter if you have to travel far? Then check the site for portals such as The Hague, Amsterdam or the whole of the Netherlands. Above all, do fun activities and have fun! Would you like the newsletter of the OUTtogether-initiative please send an email to This email address is being protected from spambots. You need JavaScript enabled to view it..
ONLINE TEST EVENT
We will soon start with the first online test events. Do you like games and do you want to meet others online, then read more on our special test events page.
Free
With own host
Online games
Online safe meeting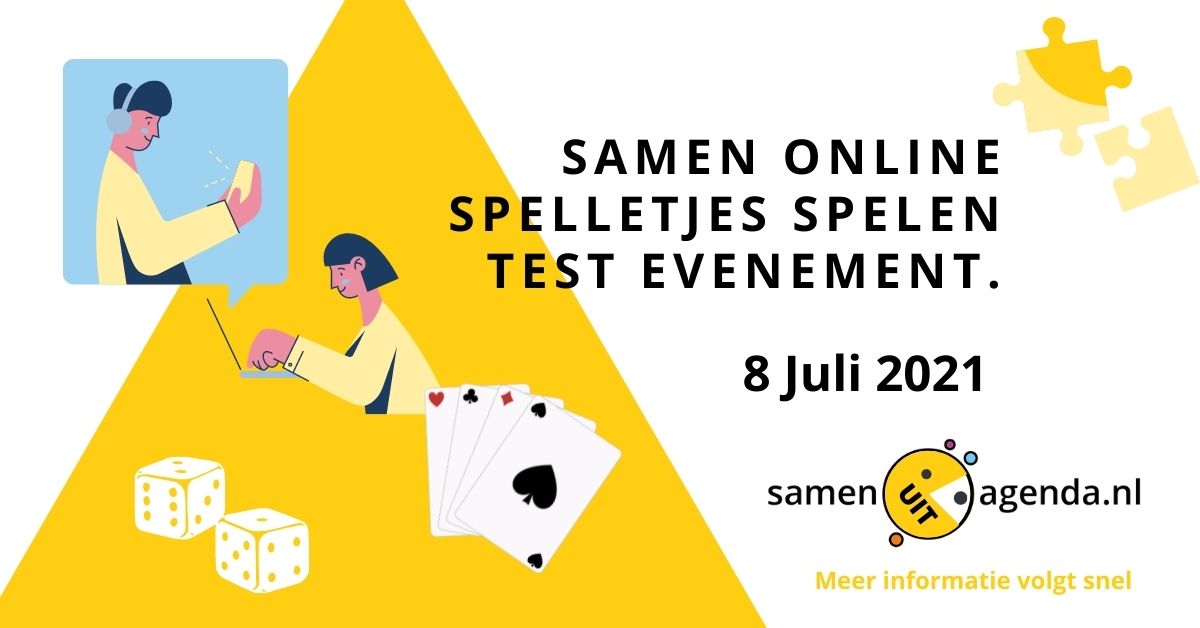 Event Calendar
In our events calendar you will find, next to one UITagenda with events, including the special OUTtogether-events, organized by our partners. At these events you will be welcomed by an organizer and you are guaranteed to meet other visitors throughout the Netherlands.
Many free events
Everyone is welcome
Every week a new event
Verified organizations
Meeting guaranteed
Special OUTtogether-events
Calls and Groups
Looking for friendship, a buddy or company? Then create a group to meet with fun people all over the Netherlands, or join a group that seems fun to you! In these groups you can chat, post calls to meet and share fun photos with each other. Have you discovered a fun online event? Then share it with the other group members! You can post calls to all onlnie events and in interest groups. If you don't want to link your calls to anything, you can also just post a separate call to meet.
Place a call now and go play online chess together, watch the virtual talk show of the Rijksmuseum, do a puzzle together, have an online drink or go to another online event. Everything is possible!
Join a group
Start a group
Free use
Place a call
Meet others
Specials
On our specials page you can easily filter calls, groups and events based on specific organizations, events, and interests. For example, if you are looking for a group based on sports and exercise, click on the dance, sports and exercise category below. You will be taken directly to a special community page! Here you can immediately see what is possible online. You will also get to know the partners and organizations we work with at specials!
All around cultural institutions
Around interests
Online tools for organizers
Around major events